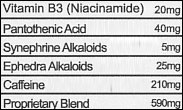 Everlean's unique formulation improves your metabolism so that your body relies more on using stored fat and less on stored proteins. The ingredients in Everlean have been synergistically (work better together than alone) combined to provide the greatest fat/weight loss possible.
Ma-Huang Extract (Ephedrine)
Decreases appetite; Commonly used for body-fat reduction; Increases the number of calories burned; Increases energy and alertness; Helps you lose fat, NOT muscle.
Guarana Extract (Caffeine)
Helps to make ephedrine work better; Increases the number of calories burned; Increases energy and alertness.
L-Tyrosine
When combined with ephedrine, ½ as much ephedrine is needed to decrease appetite; Increases energy and allows for a better workout and more calories burned.
L-Carnatine
Increases transport of fatty acids into cells for use as energy; Increases energy.
Ginger Root
Decreases appetite; Increases the number of calories burned; Has been shown to naturally support the digestive process.
Adrenal Support
Ephedrine and Caffeine are very taxing on the adrenal glands. Ingredients in the Adrenal Support Compound aid the adrenal glands so that the effect of Ephedrine and Caffeine are not as harsh on your system; Protects against possible negative reactions associated with long term Ephedrine/Caffeine use.
Willow Bark
Willow bark's most important medicinal qualities are its ability to give analgesic and anti-inflammatory properties similar to aspirin because of the active ingredient salicin. But does not have the same side effects of stomach irritability associated with aspirin.
For information surrounding the rumors about Ephedra being a potential health risk, please visit www.ephedrafacts.com and see for yourself how safe Ephedra is when taken correctly.